Where to get the Embolisation Procedure
There are now over 100 NHS and private hospitals offering fibroid embolisation in the UK. Please click on the region where you live to see all your local hospitals. Please also see the flags at the bottom for information on hospitals in Eire and internationally.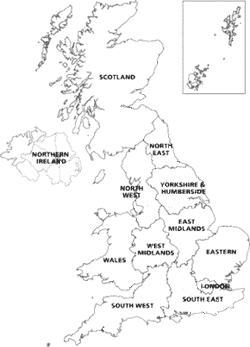 When you click on the region where you live you will see the contact details for hospitals near you and the Interventional Radiologists who perform UAE/UFE. Where we have the information we have also included whether the hospital offers myomectomy, as some pedunculated subserosal fibroids are treated first by embolisation and then immediately removed by myomectomy. Gynaecologists and Interventioonal Radiologists should work together as a team and Interventional Radiologists must decide whether a patient is suitable to be treated by embolisation. There are now approximately 100 hospitals fibroid embolisation in the UK and Eire.
You should check with hospitals on the exact nature of the procedures undertaken and the number carried out annually. Please also see our page on how to access treatment.
As far as we are aware all hospitals mentioned offer the treatment under the NHS, unless they are specifically identified as 'Private'. Once again, you should check the funding arrangements with the hospital.
Republic of Ireland and International

FEmISA also have details for hospitals offering embolisation in the Republic of Ireland and some international information.
Please click on the flag for Eire or globe for international contact details.