UAE Results and Benefits
Results and Success Rate
Embolisation is technically successful in 84-99% of patients. Some patients may develop arterial spasm, making bilateral embolisation impossible at that time. The embolisation can be completed at another time in most cases. [29],[59],[60],[61],[62],[63],[64],[65],[68] [74]
90% of patients have relief from menorrhagia, dysmenorrhea and bulk-related symptoms. 90% of those suffering from menorrhagia had normal periods within a month, while others resolved over the next 12 months with 99% returning to normal. 2.6% had temporary amenorrhoea. [29],[30],[60] 1-7% can develop permanent amenorrhoea. [65],[68]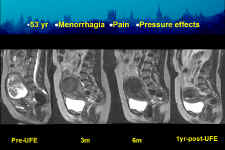 After 6 months there is an average reduction of 60% in fibroid volume and this may be a further reduced it was thought for up to 12 months, but studies have shown the fibroids continue to reduce until there is nothing left..
Click on the image for a larger view of MRI scans showing fibroids pre and post embolisation procedure
Smaller leiomyomata under 5cm may disappear altogether and the uterine size also reduces significantly.
Women have a very high satisfaction rate for the technique with a high percentage 85-97% willing to have the procedure again and many recommending it to friends and colleagues. Many have an overall improvement in their health. There is an overall success rate of approximately 89-97%. [29],[30],[52],[59],[60],[65]
Return to work is in 1-5weeks while return to feeling completely well ranges widely from within 2 days to several months, but the average is 5 weeks. [29],[59],[60],[65]
Morbidity and Mortality
Complications are very rare after UAE. In the short-term there can be infection 1%, which is responsive to antibiotics, pyrexia from post-embolisation syndrome 4-7%, which must be differentiated from infection, prolonged vaginal discharge and expulsion of necrotic fibroids 2.8- 7%, which may require surgical assistance. The menstrual cycle can be disrupted in some patients, but returns to normal in 99% of patients within 12 months. [29],[59],[60],[65],[68] [74]
The long-term morbidity from embolisation is very low. Some women (1-7%) have to go on to have go to hysterectomy, as their fibroids do not shrink sufficiently. [29],[30],[59],[60], [74]
There have been 5 deaths to date worldwide in over100,000 cases. Two were from pulmonary embolism, one of these was in a woman in her 60s who was not mobilised for some days, one from sepsis and one from migration of the embolisation material. The type of embolisation material used in this case in the Netherlands is not normally used in the UK. [29],[30],[31],[56],[60]
This compares well with the mortality rate for hysterectomy of 1 in 1,500-3,300. [15], [26] Much higher mortality rates have been reported - 1-2 in 1,000 (Martin & Benson 1987). This rate would give rise to 9-60 deaths per annum in the UK.
Effect on Fertility
Embolisation can be performed as a first line therapy and also after myomectomy. Fertility will be maintained and there have been at least 60 successful pregnancies from one centre in the UK reported to date.  The total number is unknown. [29],[30],[31],[56],[64],[65], [76]
Benefits of Embolisation
Women are sterile after hysterectomy: they remain fertile after embolisation

Uterine embolisation is carried out under conscious sedation; no general anaesthetic or surgery is involved therefore:-

The recovery time is much shorter than surgery 2-5 weeks compared with 2-3 months
Heavy haemorrhaging requiring blood transfusion and postoperative adhesions can be side effects of both surgical procedures

There is less likelihood of serious complications because:-

There is no general anaesthetic
The entry site for the catheter used in embolisation is tiny so:-

The risk of infection is much lower than surgery
Recovery is much quicker because there is almost no muscle, skin or organ damage from surgery.

Deep vein thrombosis can occur after surgery leading to pulmonary embolism, a blood clot on the lung that can be fatal. This is much less likely with embolisation
There is less likelihood of long term complication because all organs and tissues remain in situ so:

There has been no documented case of urinary incontinence with embolisation
The uterus and cervix remain intact and these play a part in the orgasm and women's enjoyment of sex

Lifting and physical activity is not affected
It only involves a short hospital stay - 1 night compared with 1-2 weeks for surgery
Gynaecologists are unable to advise women prior to hysterectomy what will need to be removed - uterus, cervix and in some cases ovaries. Some women find this unacceptable
Women having hysterectomy reach the menopause approximately 5 years earlier than those who don't - this not only causes distress to the women, but also has costs associated with HRT, etc. HRT prescriptions are at least double the normal as each hormone is paid for separately.
Fibroids often reoccur after myomectomy
Some women become clinically depressed after hysterectomy
Many women feel they are no longer 'feminine' after hysterectomy.
Embolisation as a First Line Treatment
Embolisation  has a much better safety profile than surgery for the treatment of fibroids, a shorter recovery time and no known long-term side effects.  Mortality and morbidity in the short, medium and long terms are greatly reduced.
It is less expensive to perform than surgery.
Potentially it should be viewed as a first-line therapy for the treatment of fibroids with potential benefits to patients and the NHS alike.